One night,
B
and I decided to dine at the newly-opened
Shell Out
seafood restaurant
near our home. Actually, the restaurant was my suggestion since I read about their food on a random blog and I was kind of enticed. I was especially keen to taste the
Sweet Potato
fries
and since
B
and I both love seafood, we figured why not give this new
seafood
place a try.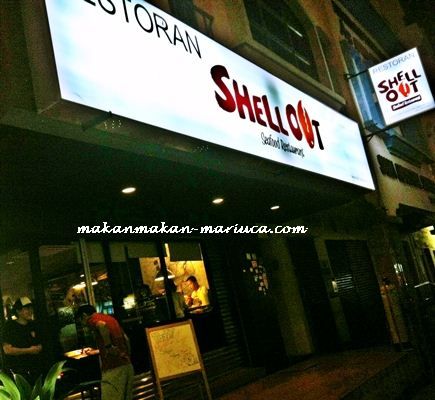 Shell Out KD
Parking is never easy in this particular area but we managed to find one spot after making two rounds. The place looked warm and inviting from the outside and we were greeted by a smiley server who explained to us what the restaurant was all about. I do like restaurants with servers who are able to answer questions I may have about the menu and our server seemed to be well-informed about their product. That was a good sign so I asked if they had a booth available and they did so we went inside.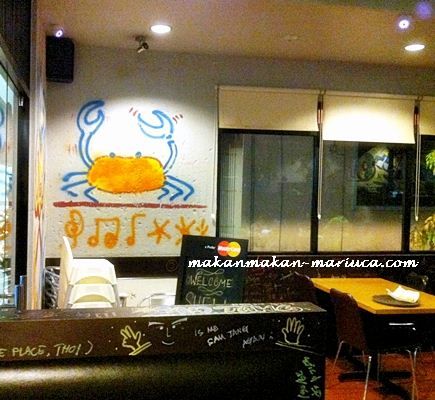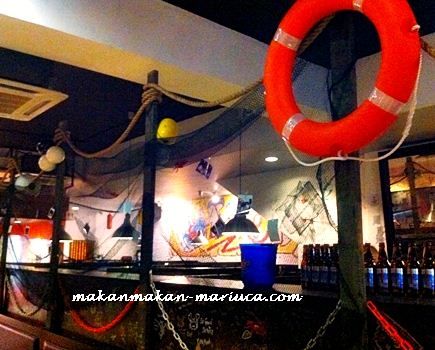 Another server immediately came to our table to place brown paper, covering the entire table. The concept here is to eat your order of seafood on the brown paper. So I guess you can get down and dirty as much as you want without having to worry about keeping the table clean. Our server did a great job in explaining the menu to us and though we would have liked to taste the chef-recommended crawfish, we finally decided on prawns, calamari and the sweet potato fries.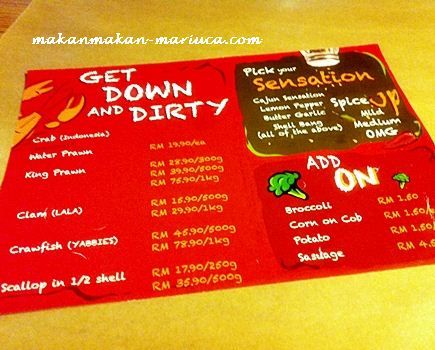 Shell Out serves 4 different types of sauces with spicy levels of
Mild
,
Medium
and
OMG
. I had my mind set on
Shell Bang OMG
but
B
who is not much of a spicy eater, wanted something milder. I asked the server just how spicy is this OMG sauce and based on customer feedback, OMG ranges from somewhat spicy to not spicy at all.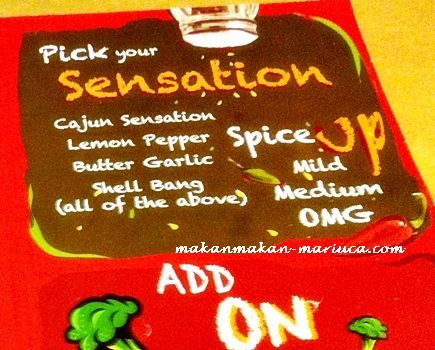 What's your pick?
To keep both
B
and I happy, our server suggested we opt for 500g of prawns and the kitchen will prepare half the portion in
Shell Bang Mild
sauce and the other half in
Shell Bang OMG
, which I thought was an excellent idea!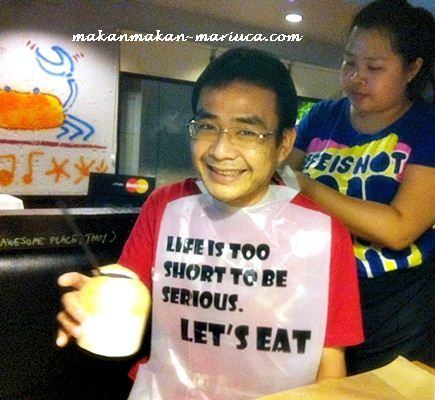 Where's my dinner?
Our order of
Sweet Potato fries
arrived first and they were exactly how I imagined; crispy on the outside, not too thickly sliced and fried to a golden brown perfection.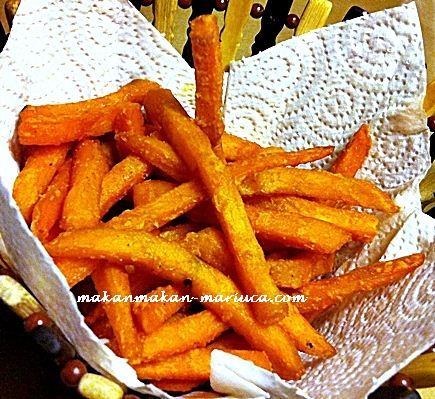 Fried Sweet Potato
Next, came the Fried Calamari, which also arrived perfectly fried and after tasting one, we both agreed that it was tasty albeit a tad salty.
Fried Calamari
Finally, our main order of prawns arrived, wrapped in a plastic bag. You're supposed to rip open the bag and dig into your prawns so we did. Of course
B
started ahead of me since I was busy snapping photographs on my iPhone.
I looked at B's prawns and they looked pretty much the same (
colour wise
) like mine aside from the minimal bird's eye chilli bits in my OMG sauce. Slightly daunted, I took a taste of the OMG sauce and my suspicions were confirmed - OMG was definitely not OMG spicy. The sauce may look fiery hot red but unlike the
Pedas Giler
sauce I was hooked on a while back, which was ultra spicy, this OMG sauce was more salty than anything else.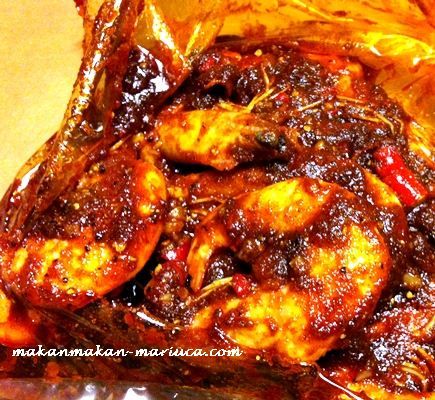 Prawns, Shell Bang OMG
I asked for a small bowl of rice to eat with my prawns. Otherwise, it would have been way too salty for my liking.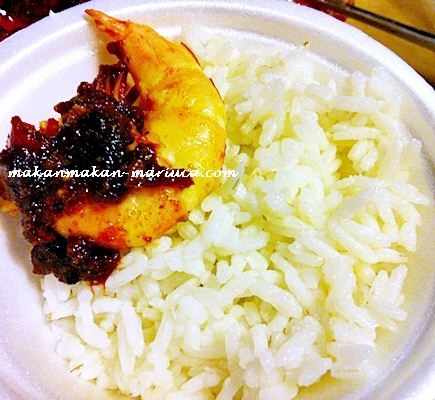 What's cool about this restaurant is that you can scribble anything you want on their furniture or windows so halfway through dinner, we joined in the fun!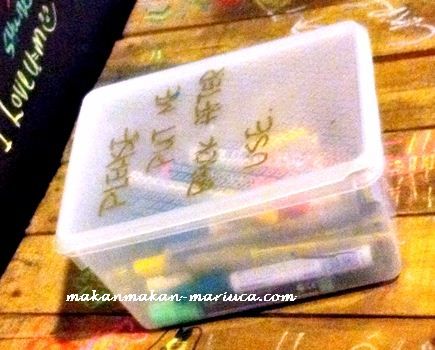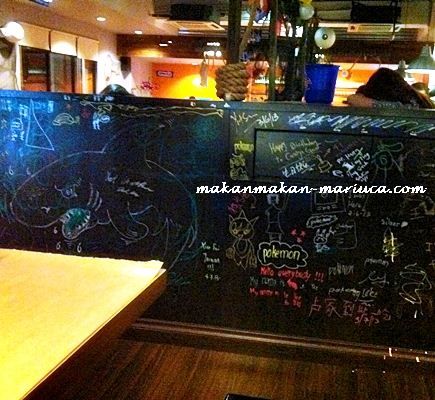 Art?
Naturally, I had to leave MMM's URL here; this is a food blog after all and once I had MMM scribbled, there was no way I could leave out the rest so thanks Love for helping me scribble!
Mariuca's Food Blog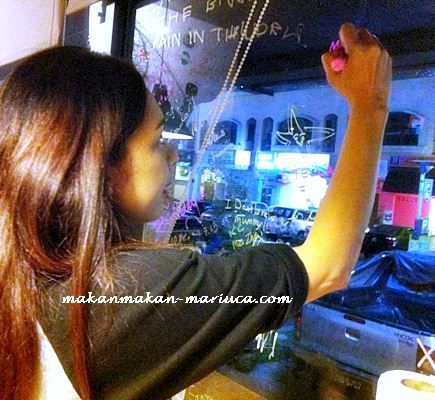 Scribbling away
Mariuca ♥ B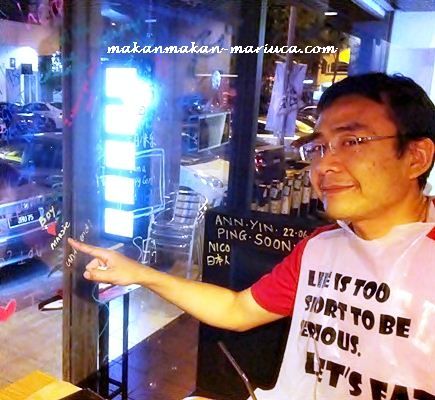 Love so True
The bill arrived and we were informed that we could get one of our coconut juices FOC if we both Liked Shell Out's page on
Facebook
, which we happily did for instant redemption.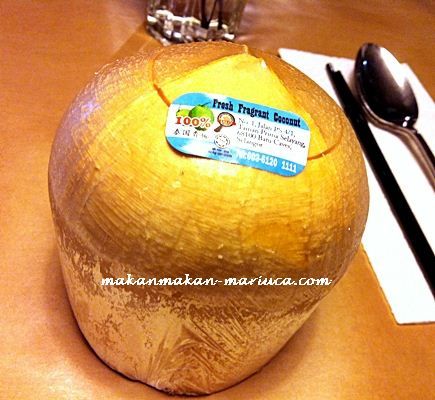 Fresh and Free!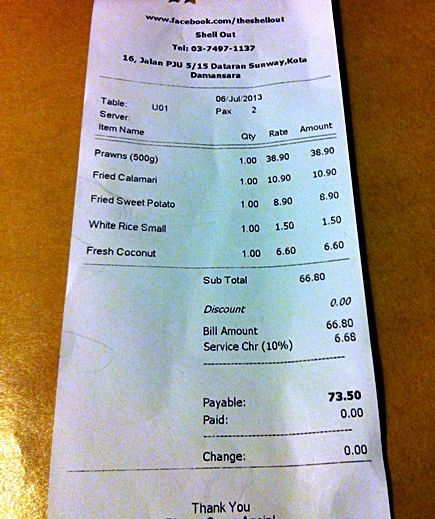 Overall, dining at
Shell Out
was pleasant with great friendly service and pretty tasty food and if we do return, I'd definitely order the
Sweet Potato fries
again!
Food:
Price: